Food for Love Guest Author Marsha R. West and her magic soup recipe
14
Jan
2023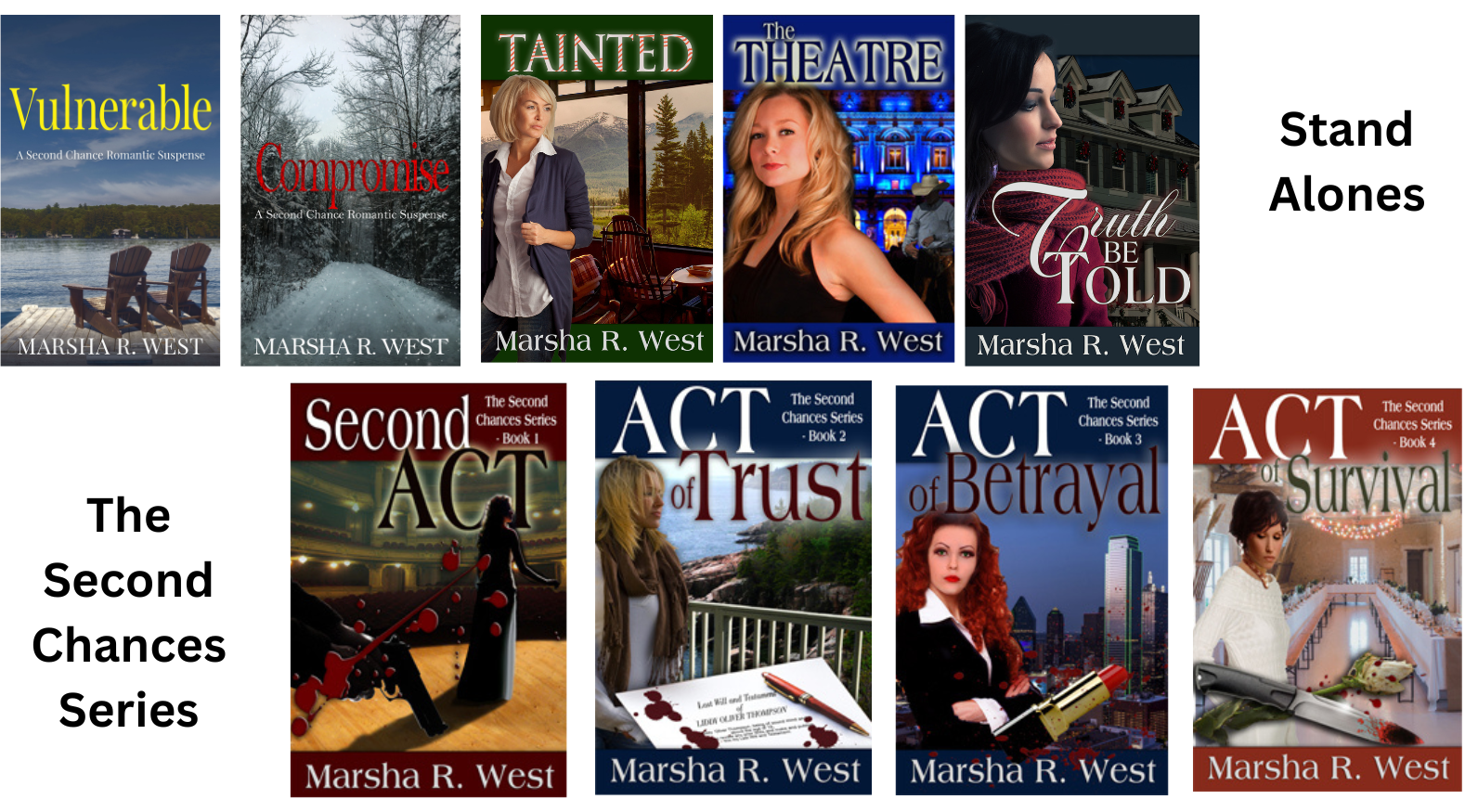 Welcome, Marsha!
Thanks for hosting me, Arlene. When it's cold out or someone in the family gets a cold, our go-to meal is Homemade Chicken Veggie Soup. I swear, it's really medicinal. On a couple of occasions, my husband has eaten it for dinner and then breakfast, lunch, and dinner the next day. And by then he's almost well. 😊
In my latest book, VULNERABLE, my 57-year-old heroine makes this meal for her two grown daughters and sends them home with a pot each to make sure they have warm food during the approaching iceageddon.
I love one-pot meals. Unfortunately, many of those aren't very healthy especially if they are made with several cans of cream of "something" soup or have cream cheese in them. My homemade chicken soup is a healthy one-pot meal. The recipe has morphed through the years. I never used to put tomatoes in it, but several years ago I discovered Fire Roasted Tomatoes make everything taste better. You can always vary the recipe, changing out the spices, or using potatoes, rice, or barley in place of the Farro. The basic thing is the basic thing. 😊
Ingredients
Olive oil-1 TBL
1 onion chopped (I prefer purple)
3 stalks of celery chopped
2 large carrots, peeled and chopped (Or half a sack of baby carrots, cut in half)
1 TBL Turmeric
1 tsp Seasoned Salt
1 tsp Seasoned Pepper
1 tsp chopped Garlic (from the glass jar)
1 tsp dried Thyme
1 tsp dried Rosemary
2 large Lay leaves
1 can Fire Roasted Chopped Tomatoes
1 Sack of Frozen Mixed veggies
1 C. Farro
Chicken breast thin sliced (or you can use thighs or breasts with the bones in. It's cheaper but more work.)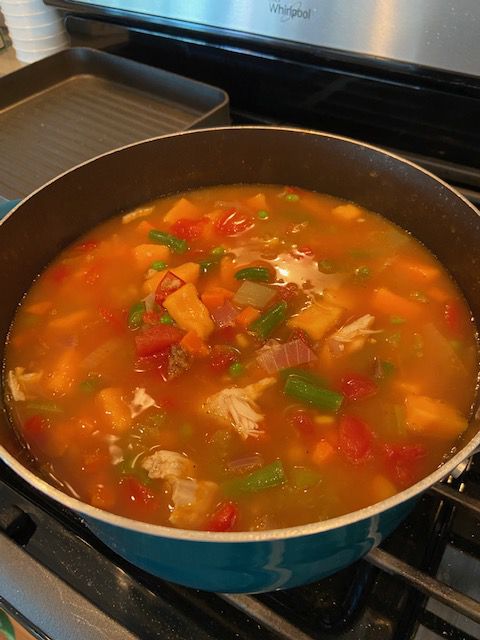 Directions
Set a large Dutch oven (or large soup pot) on the stove over medium heat. Add the oil then onion, celery, and carrots.

Heat until onions are translucent

Remove the veggies and add the chicken pieces and sauté for 10-15 minutes, turning over to brown on both sides.

Add 4-6 cups of water (depending on the size of the pot) and a can of Fire Roasted Tomatoes

Add all the seasonings. Cook for 10 minutes.

Add a medium size sack of frozen mixed veggies, and bring to a boil.

Remove the chicken from the pot, cut it into bite-sized pieces, and return it to the pot.

Bring broth to a boil and add the cup of Farro. Cook for 10 to 15 minutes.

Add water as needed.

Adjust the seasonings to taste and serve with crackers or rolls.
This may seem like a complicated recipe, but it's really simple. I've been cooking this for more years than I can remember. I don't even measure anything anymore. The extra spice from the Fire Roasted Tomatoes is especially good if a person is sick. Sometimes I even add pepper flakes to my bowl. (That's totally up to you. LOL)
With only two of us, we can eat this large pot for several days. I just add water as needed and then add more salt and pepper. I hope you enjoy this hearty and healthy one-pot meal.
🍜🍜🍜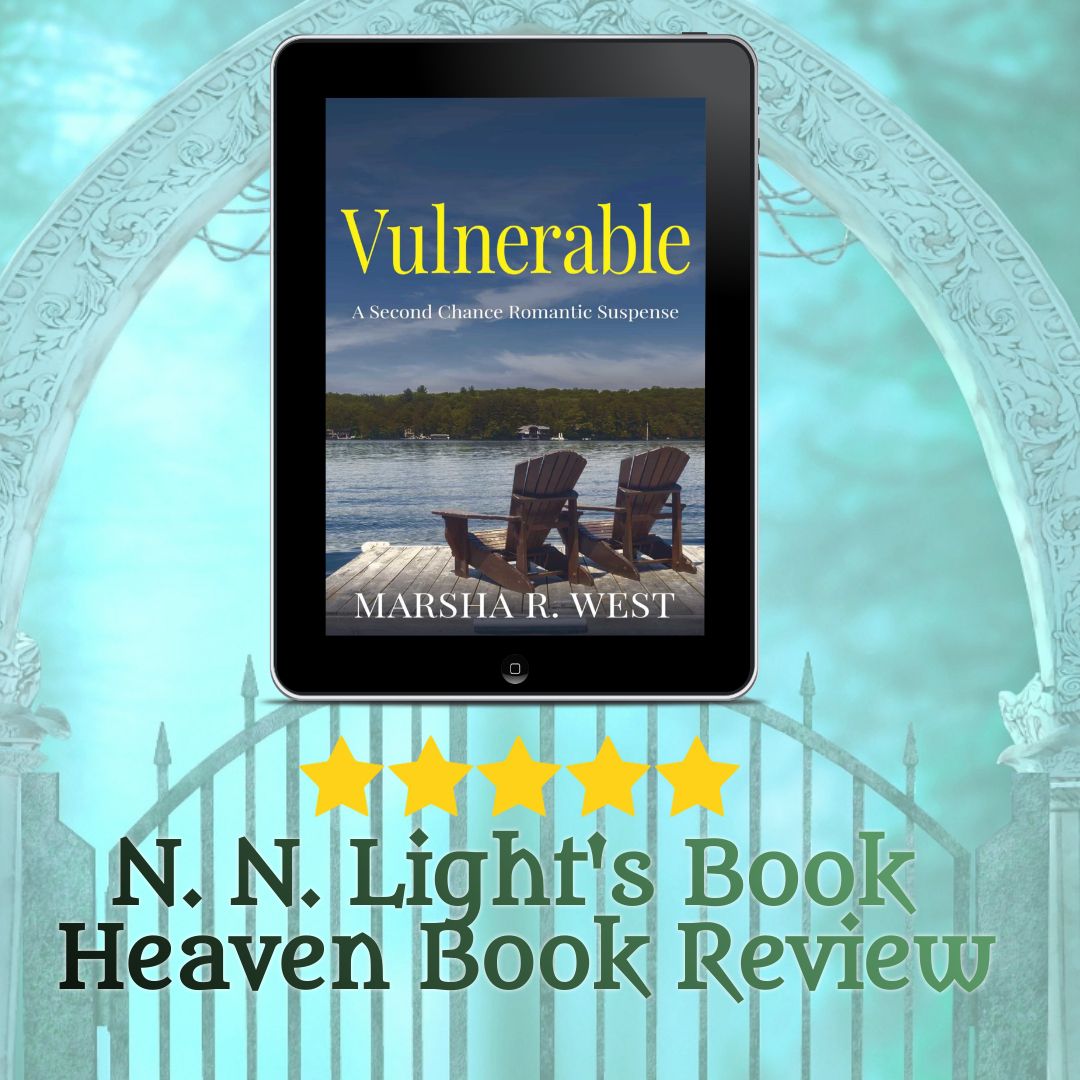 Here's the trailer for VULNERABLE.
And a short excerpt:
"Here's the pizza, ladies." The server placed the tray on a raised stand in the middle of the table. "Can I bring you anything else?"
"No thanks. We're good. Umm. Smell that. My mouth is watering. I'll cut, Mom. You talk."
"How much do you know about harassment in the workplace?" Maddy fiddled with her silverware, moving her fork and knife around from place to place.
"Why are you asking? Do you have a friend who's run into some trouble?" Morgan frowned as she served both their plates. "This looks scrumptious. I plan to eat and enjoy every last fattening bite and enjoy it. I'll exercise more tomorrow. So, do you have a friend who needs advice?"
Maddy pushed away her plate. "Not a friend. It's me."
Morgan nearly choked on the last bite of salad. "Oh, my God, Mom. Are you all right? What happened? When? Who?
❤❤❤
The print book will be available in late January. The e-book is available here https://books2read.com/u/4Nd0GG so you can get it at whichever venue is your favorite.
❤❤❤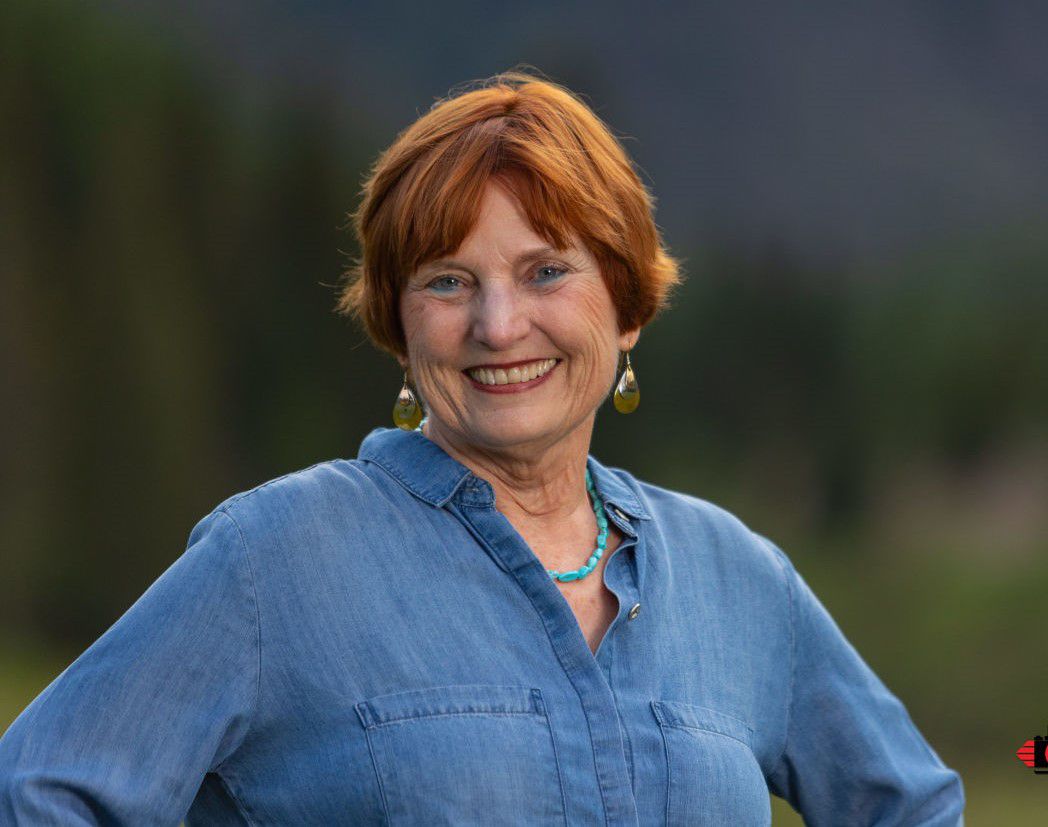 Retired elementary school principal, former school board member, and theatre arts teacher, Marsha R. West writes Romance, Suspense, and Second Chances. Experience Required. She lives in Texas with her supportive lawyer husband and Charley, a deaf, Chihuahua/Jack Russell Terrier. Their two daughters presented them with three delightful grandchildren who live nearby.
Marsha's four-part series is called The Second Chances Series, and that's the theme of her nine books. Her Heroines and Heroes are in their 40s and 50s with their parents and children often playing supporting roles.
She believes in Happily Ever Afters. Her husband picked up a plaque for her on one of their several trips to Maine that states her philosophy exactly. Everything will be all right in the end. If it's not all right, it's not the end.
❤❤❤
Blurbs for each of her books with links can be found on her website https://authormarsharwest.wordpress.com/ Where you can also sign up for her blog and NEWSLETTER MRW Press LLC (list-manage.com)
Contact her at marsha@marsharwest.com , and follow her on…
(20+) Marsha Riegert West | Facebook
https://www.facebook.com/?ref=tn_tnmn
https://www.twitter.com/Marsharwest @Marsharwest
https://wordbyword.net/category/blog/
Marsha R. West (Author of Vermont Escape) | Goodreads