Food For Love: Guest Author Gretchen Lovett
16
Jun
2022
Here's what happens when a romance author falls in love in a foreign country!
He's Not the King
A Romance Novel & a Recipe for Moroccan Soup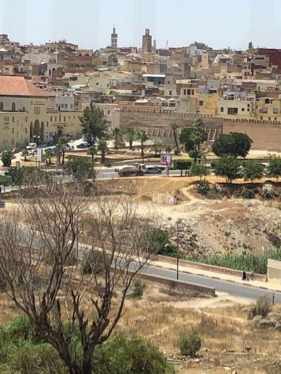 I fell in love with a man from Morocco and was able to visit the country several times in my life, learning authentic cooking techniques from my mother and sisters-in-law. I wrote He's Not the King after a sumptuous vacation at a mountain spa. Being pampered by nutrient-rich hot springs, I learned that the king himself was a frequent visitor to the resort, though not while I was there. I imagined what might happen if an unsuspecting American tourist thought she was in the presence of the king.
Here is a recipe for a traditional Moroccan soup. It is mentioned in the novel as one of the offerings at the hotel buffet. Called harera, it is often eaten to break the fast during Ramadan, though it can also be consumed year-round. It is a hearty vegan soup, full of lentils, rice, and pasta.
Ingredients:
¼ onion grated
2 celery stalks, cut into thin slices
1 tablespoon corn oil
3 tomatoes
1 tablespoon fresh chopped parsley
1 tablespoon fresh chopped cilantro
¼ cup lentils, rinsed
¼ cup rice, uncooked
¼ cup thin spaghetti broken into thumb-sized pieces
1 heaping tablespoon flour
2 tablespoons tomato paste
Water
Salt & pepper to taste
1 teaspoon turmeric
1 teaspoon ginger
Directions:
Cook onions, celery, and spices with corn oil for about a minute
Add water to fill the pot
Soak lentils in water.
Cook for 20-25 minutes, until the entire pot is boiling
Cut the tops off the tomatoes & carve an "X" on the bottom of each. Drop them whole into the soup.
Cook for 5-7 minutes until the skin of the tomatoes loosens
Fish the tomatoes out of the soup, remove the skin, and place them in a blender.
Ladle out 2-3 scoops of the soup into the blender with the tomatoes. Put flour and tomato paste into the blender & blend until smooth.
Return the tomato mixture to the soup pot. Stir.
Add cilantro, parsley, and lentils.
Cook for 15-20 minutes until lentils are almost soft.
There will be a film that will develop on top of the soup that you will need to scoop off. This is normal. You will need to continue to scoop it off every 5-10 minutes until the soup is finished.
When the lentils are almost done, add rice
Cook 10-15 minutes until rice is almost done
Add spaghetti
Cook 7-10 minutes until spaghetti is done
Serve with lemon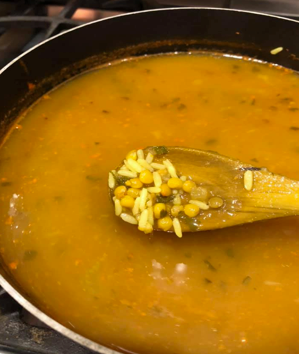 He's Not the King
by Gretchen Lovett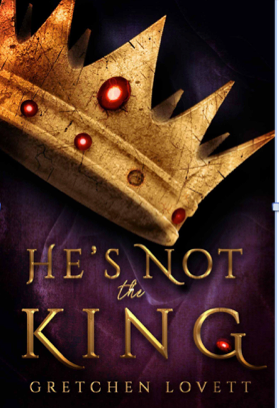 Blurb
Claire always wanted to visit Morocco, imagining aromatic spices and ancient buildings since childhood. After a traumatic breakup, she decides to go for it, booking a weeklong stay at an exclusive spa. Once there, she learns that the king himself frequents the resort; one of his many palaces is just a short distance away.
Sayed is enchanted by the beautiful American tourist. He invites her to dine with him and discovers, to his horror, that she believes him to hold the highest power in the land. He wants to tell her the truth, he knows that she deserves nothing less, but can he run the risk of losing her when all he has to offer is wealth?
Excerpt from He's Not the King
She stayed there until her skin cooled, until she felt a shiver creep up her spine. She was spent, her every muscle worked and stretched, her heart somehow freed. She wanted to return to her hotel room and grab a shower. She also felt hunger and marveled at the fact that such a ravenous appetite had snuck up on her, hitting her with full force.
The resort employee was waiting for her again and helped her navigate back through the spa to the hotel. At the final glass partition, when they had descended the ramp to the lobby floor, the woman took her leave.
"Madam," she said, nodding.
"Thank you," Claire sighed. "Shukran."
The woman smiled before turning around to return to her work. Claire pulled her robe tighter. It was much cooler in the hotel lobby, out from under the dome of the mountain, removed from the humidity of the hot spring. But the temperature wasn't the only thing that caught Claire's attention. There was something going on.
The last two times Claire was in the lobby, it was almost empty. Now it was full of people. Servants dressed in crisp white uniforms held baggage near the door. A contingent of men dressed in business suits clumped around a single figure at the front desk. The man acted as if he owned the place, as if everyone else in the room were there to serve him.
He smiled, reacting to something the concierge had said. Five or six men gathered around him and laughed, as if his approval were needed for a joke to be funny. The man had short black hair, indicative of Moroccan heritage. His suit looked expensive, tailored to him in a perfect charcoal shade that set off his eyes. It seemed like the attention of the entire room was focused on him and he was comfortable in the spotlight. Beneath the cut of the power suit, Claire could see his muscular form. He was a man who took care of himself, and everyone around him noticed.
Buy link:
https://www.amazon.com/Hes-Not-King-Romance-Novel-ebook/dp/B09PWJXHKF/ref=sr_1_4?crid=163K50TP240BQ&keywords=gretchen+lovett&qid=1654194188&s=digital-text&sprefix=%2Cdigital-text%2C77&sr=1-4
Author Bio
Gretchen Lovett is a romance writer, ghostwriter, freelance writer, and lover of all things literary. She has a bachelor's degree in behavioral science and worked as a secretary for a large nonprofit organization up until COVID. After the lockdowns, she stayed home and began to take on writing jobs. Through Magnolia Blossom Publishing, she released seven romance novels. After signing NDAs, she has worked on 21 romance novels for various clients and six nonfiction titles on subjects ranging from parenting to healthcare. She has two brilliant, handsome young men in her life who are getting ready to leave the nest. They are not allowed to read her books, nor are they interested.