New Release: Felicity's Power from The Wild Rose Press
27
Mar
2015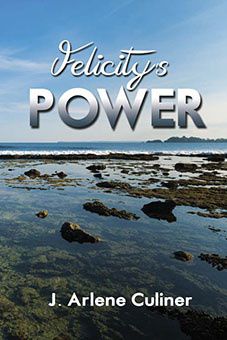 Ex-lovers come face-to-face after a forty year separation: can you fall in love with the same person twice,
Felicity's Power is the story of two lovers who meet after a forty year separation. Both are in their sixties — and that's pretty rare in the world of Contemporary Romance books. In real life, however, people meet and fall in love at any age. Thank goodness for that!
What was most important to me in writing this book was presenting a heroine who is happy with herself and with the life she's lived. Felicity has white hair, wrinkles and she doesn't think twice about looking her age. And my hero, Marek, thinks she's just gorgeous too.
And that's the way it should be. We have to accept ourselves to be happy. There is no shame in looking forty, fifty, sixty, seventy or more. We should be sneering at all those who tell us we have to dye our hair, hide our wrinkles, disguise sagging skin, cover than bald spot. We have been shamed into feeling guilty about the way we look because companies want to sell us products and plastic surgeons want to have a hefty income. It's time to rebel, say no, relax, love the person you see in the mirror, glory in whatever age you happen to be.
Felicity's Power by J. Arlene Culiner
Contemporary Romance from The Wild Rose Press
San Francisco, 1971: hippies in the streets, music and revolution in the air. The evening Marek Sumner opened his door to the wild-looking Felicity Powers, he knew nothing would ever be the same again. But even love and passion couldn't keep them together.
Forty-three years later, having lived in the world's most dangerous places as a foreign aid worker, Felicity is back, still offering him love, passion, and adventure. But why would Marek risk having his heart broken a second time? Now a well-known author, he loves his calm, solitary life in an isolated farmhouse. He and Felicity are just too different; their relationship could never work.
But Felicity is just as fascinating and joyful as ever, and that wonderful sexy magic is still there too. As for love, perhaps it's even deeper and more delightful the second time around.

http://www.amazon.com/Felicitys-Power-J-Arlene-Culiner-ebook/dp/B00TZABHQW
http://www.wildrosepublishing.com/maincatalog_v151/index.php?main_page=product_info&cPath=195&products_id=6137
http://www.barnesandnoble.com/w/felicitys-power-j-arlene-culiner/1121324706?ean=2940151226820
https://www.allromanceebooks.com/product-felicity039spower-1754365-149
http://www.bookstrand.com/felicitys-power <http://www.bookstrand.com/felicitys-power>
http://www.bookworld.com.au/ebooks/felicitys-power-j-arlene-culiner/p/9781628308761