Cover Release: A Swan's Sweet Song
01
Jan
2015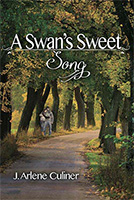 Blurb: The instant Sherry and Carston meet, there's desire and fascination in the air…but they're complete opposites.

Smart-talking Sherry fought her way up from poverty to stardom as a country music singer. Now, she's ever in the limelight, ever surrounded by clamoring fans, male admirers, and paparazzi, and her spangled cowboy boots carry her all across the country, from one brightly lit stage to the next.

A renowned but reclusive playwright, Carston cherishes his freedom, the silence of his home in the woods, and his solitary country walks. Any long-term commitment is obviously out of the question: how about a quick and passionate fling?

But when their names are linked in the scandal press, Sherry's plans to become an actress are revealed. Is their budding relationship doomed?