The Book Tour Episode Two: An Interesting Encounter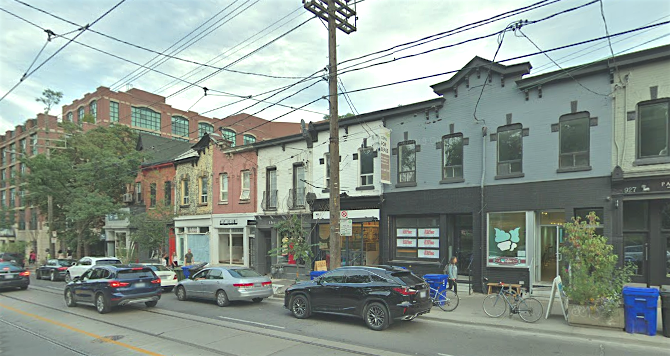 Here I was, in Toronto. The sun was shining, birds were chirping, and I was strutting along the calm streets, dragging a small suitcase behind me. The world was my oyster — or so I thought. That little suitcase was filled with my own books, and in a few days, I would be heading for Halifax, Nova Scotia, for the first stop on my book tour — Dalhousie University. Quite a prestigious start!
I had just been to my publisher's office where I'd worked out the final details of the tour with the publicist. There really was no reason for things to go wrong. Okay, I had no experience in this, my publisher was a small one with little money for such an undertaking, but she did have a publicist to help me: a big plus. Possibly…
To tell the truth, that publicist didn't inspire much confidence. She certainly didn't look like my idea of a publicist with her bleached white hair standing on end, and her very many piercings. My questions bored her, she was remarkably vague, she preferred looking into a mirror on the opposite wall, and she soon let me know she had better things to do than just arrange a book tour for little old me: "Actually, I'm really a poet."
But, why worry? What could go awry? But, then again, what did I know? As I mentioned: I was new at this. I had, nonetheless, taken certain matters into my own hands, arranging some of my talks, and most of my travel plans. I loved having this opportunity to go on the road, meet people, speak about all the research I had done, the world I had seen. Therefore, I would use my publisher's offer of plane tickets to some destinations, continue on by bus in order to lower costs and prolong the tour. And, here I was now, ready for the journey, and taking the rest of the day to stroll down memory lane.
I grew up in Toronto but left long ago. It's quite an experience, coming back to a place you once knew. Everything is familiar, yet unfamiliar. Life has gone on without you, but in your memory, things have stayed as fixed as photos. How well I knew these streets, with their luxuriant vegetation, their huge trees. These fine houses, emblems of security, looked so comfortable, so solid, and the few people I saw, so prosperous. Perhaps they were my former schoolmates — I wouldn't recognize them if they were; I could hardly remember their names. But what I haven't forgotten, is how impatient I was to leave all of this behind, to set out on my own, taste the big wide world. I wanted schooldays to end, and adventure, excitement, even danger to begin.
My travels began on dark nights, when I climbed out of my bedroom window, shinnied down the solid drain pipe, and wandered through dark back yards, peeking into windows, trying to learn life's secrets. Journeys were also snatched during school hours, and forging my parents' signatures was easy work. I charted every corridor in every station on the subway line; I knew every single bus route, and free transfers took me to the city's limits, out to where houses dwindled away to scrubby fields. And, finally, once I gained courage, I left town altogether, set out for another sort of life.
Now, all these years later, I was back, albeit temporarily, as a writer. Okay, unlike my school chums, I'd never have one of those big houses. I also had little money, but is that important? Having to improvise, negotiate, make do, can be far more interesting — and stimulating — than just purchasing what you want. And, best yet, I've lived the life I only dreamed of back then.
Emerging from the lovely back streets and joined a roaring main street, Eglinton Avenue. Up ahead, I saw a man, a homeless person, sitting on a blanket on the sidewalk with two dogs. Absolutely beautiful dogs. I stopped, told him so. The dogs, perfectly friendly, came over to me for a pat.
"I have dogs too," I said. "I miss them, but they're at home, in France."
So we got into a good conversation about dogs like all decent dog owners tend to do. Then, we exchanged names — his was Bert — and I settled down on the step beside him. From dogs, we went on to other subjects, told a few life stories. His ruin had been alcohol, he said, but now, associated with a church downtown, he tried to help other homeless people with the same problem.
He asked me what I did in life, I said I was a writer, that my non-fiction book, Finding Home, had just won a literary award. That I was about to go on a book tour.
"Hey, I love reading," said Bert. "And here I am, talking to a real author. Tell me about your book."
So I did, of course — what author would resist? Wasn't this another book talk? I mentioned crossing Romania on foot, my research in the archives across Europe.
"That sounds just wonderful." I could see Bert was sincere. "You don't happen to have one of your books with you, do you?"
Suddenly, I felt quite uncomfortable. I was sure he was about to ask me if he could have a free copy — after all, he was panhandling on the street: that was his job. My job was selling my books. There was a conflict of interest here.
Most people think that publishers hand their happy authors hefty piles of books to give away to friends, family, admiring fans, critics, would-be critics, and that nice lady who serves coffee in the delicatessen. However, that just isn't true (as we authors know.) We do get a few free copies from our publishers — the actual number depends on the size of the print run, the marketing plan, the author's stature, and what's been agreed upon in the publishing contract. An unknown author takes what he or she can get, and that usually means ten copies: some receive a few more, others even less.
Publishers aren't being unfair. They keep track of every book, including complimentary copies, because free books are the marketing tools they send to professional reviewers, bloggers, and anybody willing to spread the word. Authors are expected to use their own free copies in the same way. This means, you shouldn't be giving a copy to Aunt Sadie because you love her. Once you've used up your allotment of freebies, you have to buy your own books, although you do pay less for them — somewhere between forty and sixty percent of the retail price, as specified in your contract.
"Yes, I do have some of my books with me," I admitted to Bert. "I have copies I bought from my publisher, and I have to sell them." I was feeling terribly guilty. After all, Bert was a homeless person. I, although very far from well-off, did have a home.
"No problem," said Bert. "I'm not asking for anything free. I want to buy a copy."
"You want to buy my book?"
"Sure, I do. You don't meet authors every day of the week. And I like the story."
"You're sure about this?"
"Of course, I am. How much does one cost?'
Okay, you can see my dilemma, can't you? This man, this homeless person, was about to buy a copy of my book. My book, at twenty-two dollars, was relatively expensive. This person had a plastic cup with a few coins in it, and a couple of nice dogs to feed. I wasn't going to sell him a twenty-two dollar book, was I? Of course, I wasn't. I wasn't going to give one away either — that would be ridiculous, especially in my position. I could, however, sell him a copy with the same forty percent discount I had. I wouldn't make any money on it, but I was doing a good deed. I could even chop down the price for him. Just to make me feel better.
"Are you really sure?" I asked. "It will cost you twelve dollars."
"Great," said Bert without the slightest hesitation. "If you just sit here and watch the dogs for a moment, I'll cross over to the bank on the corner and get the money." And reaching into a pocket, he pulled out a nice, golden credit card, then set off with a jaunty step.
I sat there on the step, stroking the dogs, and thinking hard. A credit card. He had a credit card. I didn't. I've never had one. Ever.
If I wanted to make a success of this writing business, I certainly had a lot to learn.